Jasmin Cinco
Documentation Secretary
FMSS has given me opportunities to fuel my career growth, learn new things, establish connections with fellow professionals, and make new friends within my work family.
Although I have had previous experience in the maritime industry, joining FMSS and being assigned to the Grindrod account felt exciting and daunting at the same time. As with any new job, I had to adjust to a new environment, work with new people, learn new tasks and face new responsibilities. However, I realized that with this new function, I had an amazing opportunity to further fuel my career growth, accelerate my knowledge of the industry, forge meaningful connections with fellow professionals, and even make friends within my new-found work family.
As a member of FMSS, I soon found myself taking part in important meetings, participating in learning sessions and seminars, and handling crucial responsibilities which all contributed to my professional and personal development. Meanwhile, employee engagement activities such as masses, Christmas parties, birthday celebrations, and even health and wellness programs ensure that we maintain our work-life balance. Each occasion, whether big or small, served to make us feel special and valued in the organization. In times of emergencies, calamities, and especially during this pandemic, our company makes sure that our health, safety, and well-being are always the number one priority.
While working in crew management does have its own challenges, I can say that I am truly blessed to be part of FMSS and work with bosses and colleagues that provide me mentorship and guidance, allowing me to competently perform my job and grow exponentially throughout this journey. Supported by a hardworking team and inspired by a positive working environment rooted in the company's values, I remain passionate for my work and committed to always doing my best to be a valuable team member of FMSS.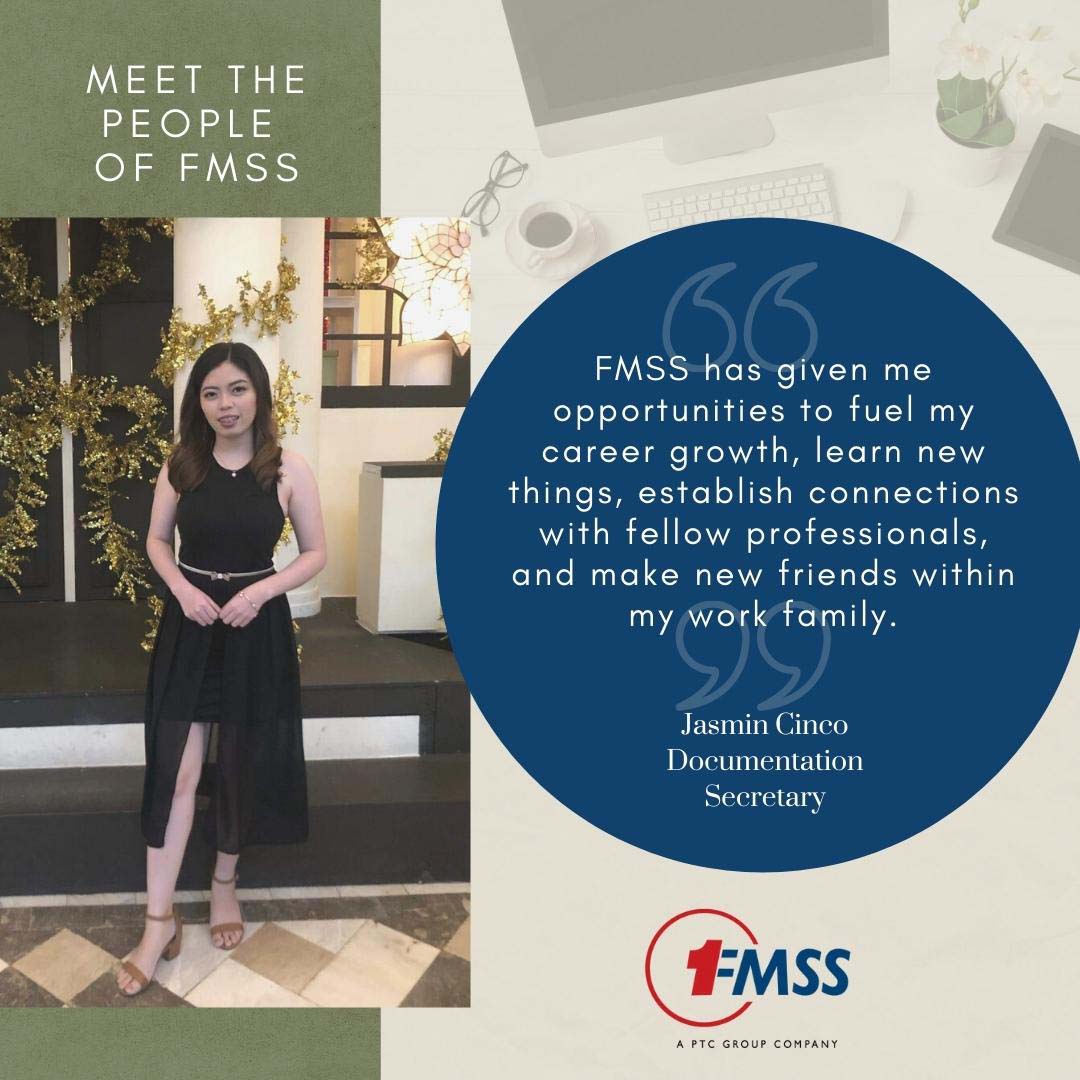 Antonette Punzalan
As we continue to operate in a virtual work environment, I am happy to share that not only have we adjusted to working from home, we are actually thriving and are even more committed to deliver the FMSS brand of service to our clients.
March 16, 2020. The date when millions of employees all over the world were introduced to a working set up that was unfamiliar to them: working from home. For me, it was the start of a journey of struggles and adjustments, but one that ultimately led to new and valuable learnings.
Many may think that working from home is easy but let me share the reality and struggles associated with this working set-up.
The first challenge that many workers globally had to face is setting up an appropriate work station. Even if the employee is provided a laptop or desktop, finding a conducive area that will serve as your home office can be quite difficult. Facilities and equipment that are in the office to help make work easier such as a desk and office chair, printers, copiers and high-speed internet on the other hand, may not be readily available at home.
This is when creativity came in handy as many used their ingenuity to set-up an improvised work station. Some also had to upgrade their internet plan to ensure fast and uninterrupted access to online office tools and to communicate with their co-workers. Many also had to deal with noise coming from outside one's home and other distractions that came with everyday life at home.
Adjusting to this new working environment proved to be a continuous process for many. It necessitated us to adapt new working styles given the limitations of a virtual workplace. Practicing discipline and accountability was a must since no one was physically monitoring how you accomplished your task. Time management was also key especially for those who also had to take care of their family or do household chores while working from home. While it took some time to get used to, I am proud to see how this situation allowed our FMSS team to develop greater trust and confidence in each other.
One thing that I am thankful for is that aside from keeping us safe from the COVID-19 virus, working from home also saves us the hassle of commuting to work. Not having to go through traffic on a daily basis definitely does a lot for our physical and mental wellbeing.
As we continue to operate in a virtual work environment, I am happy to share that not only have we adjusted to working from home, we are actually thriving and are even more committed to deliver the FMSS brand of service to our clients. And while we prepare to slowly return to regular office-based work in the new normal, having been vaccinated against COVID-19 and with quarantine restrictions easing up, we take with us the valuable lessons that we have learned from the pandemic. We are motivated by the deep appreciation that we have for each member of the FMSS team and remain thankful, that even through these challenging times, we continue to enable the companies that we serve and help keep crucial industries moving.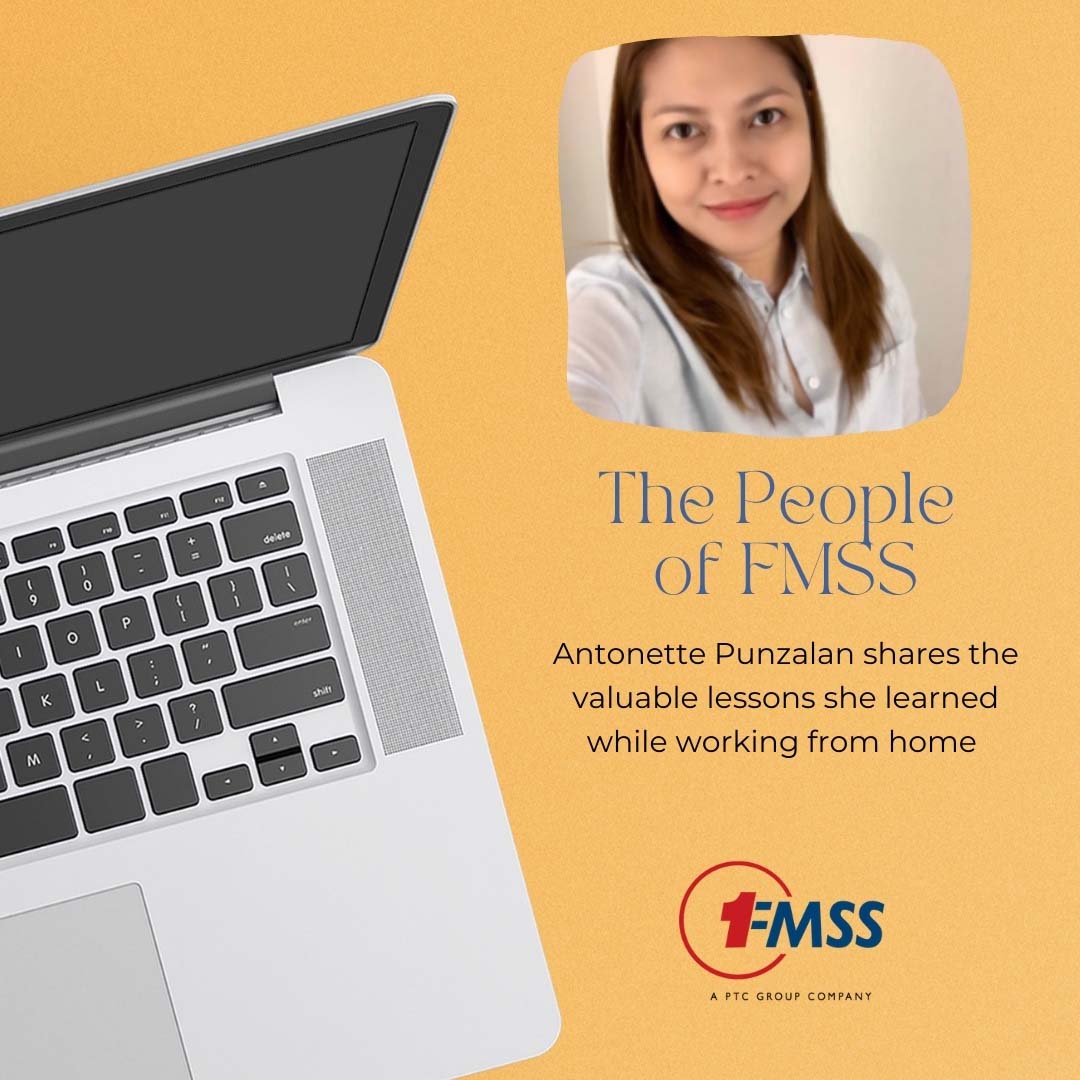 Jessa Cipcon
Accounting Assistant
The positive working environment at FMSS allows us to build great camaraderie at work, helps me develop my skills and expertise in many areas, and drives me to become a better professional and person as a whole.
Having finished a degree in Accounting, I never imagined during my student years that I will one day be working in maritime and applying what I have learned in such an important and dynamic industry. Although the experience was initially overwhelming, since I still had a lot to learn about this industry, I soon found myself developing not only my knowledge in accounting, but my skills and expertise in a range of other areas as well. And all of these were made possible through the support and training I got from FMSS.
I have a deep appreciation for the very friendly and welcoming atmosphere that FMSS, and the shipping account to which I am assigned to, have created for us. Such a positive working environment allows us to build great camaraderie at work. Each day at work is such a pleasant experience that I did not even realize that I'm already approaching my 5th year in the company. I am truly glad that I made the decision to join FMSS.
And while I continue to develop my skills and abilities with FMSS, I am confident that all the opportunities I have had with the company will only further make me a better professional and person in the years to come.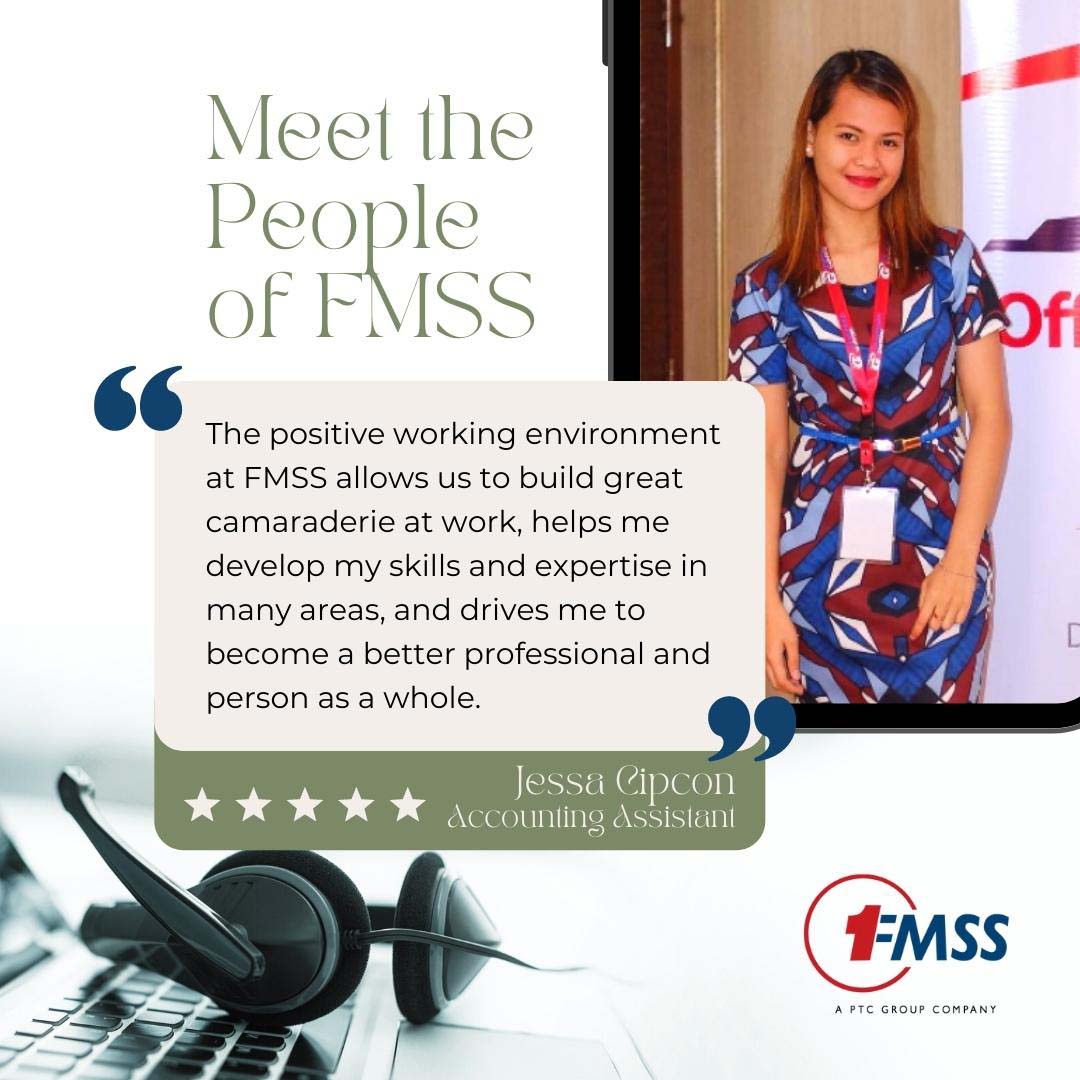 Brian Mhirco Damian
Accounting Assistant
Through trainings and workshops, we are encouraged to continue growing professionally and further develop our skills. We also have a chance to give back to the community through the employee volunteerism programs.
When I finished college with a degree in business administration, I was initially at a loss over which industry I wanted to be part of. Then my cousin who is working in the maritime industry, influenced me to pursue a career in this field. She shared with me her experiences working with different ships and I became interested to learn about ships and its operations too. I actually felt that I had been destined to work in the maritime industry because during our job fair back in college, Philippine Transmarine Carriers, Inc. was one of the participating companies. I visited their booth, submitted an application, got an interview and eventually got the job!
Presently, I am working as an accounting assistant with FMSS, a company under the PTC Group, assigned to the Grindrod Shipping account. Working with the company has not only helped me improve my knowledge and skills in accounting, but I also gained a deeper appreciation for the value of this industry and the hard work of our Filipino seafarers who are moving the world. This was further enhanced through my exposure to crewing conferences and other training programs which allow us to learn more about shipping operations and work of our Global Maritime Professionals.
Work life balance is highly valued in FMSS and this is one of the reasons why I have stayed and flourished in this job for four years now. I am also happy that I share the same values with the company: hard work, integrity and concern for others. Through trainings and workshops, we are encouraged to continue growing professionally and further develop our skills. We also have a chance to give back to the community through the employee volunteerism programs. And with the support of my mentors and colleagues, I can truly say that I am valued and appreciated in this organization.
Christmas Party
Ship Visit
Grindrod Officers and Crew Conference
Outreach Program
Training
Katrina Andal
Team Leader
What I am probably most thankful of is how the company values work-life balance which allows me to spend precious quality time with my family.
I first joined the maritime industry twelve years ago as a working student when I was hired as an administrative staff for a seafarers training institution. Diligently working for 5 years, I was eventually promoted as a Marketing Officer tasked to promote our services to various ship manning agencies.
Among the companies that I frequently visited for my previous job was Philippine Transmarine Carriers (PTC). I can still vividly remember my regular office visits to PTC, seeing the Marine Personnel Assistants (MPA) in their uniforms looking a lot like flight attendants and the Crewing Managers professionally talking to their seafarers as if they were Captains of a ship instilling inspiration and leadership among their crew. I was even enthralled with how the company's cafeteria, the Mainsail Café, looked like the dining area of an actual cruise ship. Everyone seemed to live and breathe the maritime industry and was so passionate in their mission to help provide meaningful careers to Filipino seafarers that I could not help but be likewise inspired to continue forging my path in this industry.
As fate would have it, I did end up joining the PTC Group just a year after through First Maritime Shared Services (FMSS) which to this day, I believe, is one of the best career decisions I have ever made in my life.
After eight years with FMSS, I was assigned to a project-based account which eventually led me to become part of Grindrod Shipping, a respected name in the cargo shipping industry. With a working environment where everyone is treated like family and given the opportunity to grow and flourish professionally, I can proudly say that I now consider Grindrod as my second home.
Handling the Grindrod Shipping account, I was able to achieve so many of my goals including the opportunity to travel to South Africa in 2016 and meet my colleagues at our main office in Durban. I also I got to experience the beauty of South Africa as I explored one of the safari parks in the region, all courtesy of Grindrod Shipping. It was a trip that I never imagined I would be taking but one that proved to be so memorable for me.
Being able to meet the seafarers whom we serve at our annual Grindrod Officer's Seminar and Christmas Party is also a highlight of my year, as well as our team building sessions and outreach programs that allow us to see beautiful places while sharing our time and resources to less fortunate communities.
Most importantly, working for FMSS has given me the chance to develop a deeper appreciation for the hard work and dedication of our Filipino seafarers as they fulfill the call of their profession. As we visit Grindrod vessels during their ports of call in the Philippines, I am able to gain a better understanding of the important role that Filipinos play not only onboard their vessel, but for the global economy as well.
However, what I am probably most thankful of is how the company values work-life balance which allows me to spend precious quality time with my family. Professional development is also valued in this organization hence I have been given more challenging and rewarding tasks been now that I have risen as a Team Leader for the company.
All these opportunities are just a few of the things that I cherish working with FMSS, surrounded and motivated by equally driven and hardworking team members. All these inspire me to continue to strive for excellence at work in appreciation for all the opportunities that I have been able to enjoy as part of FMSS.
Office visit at Durban South Africa
At Penthouse
Grindrod Wives Association on Outreach Program
Ship's Visit at Manila Harbor
Grindrod Crew Conference at Shangri-La Hotel
Mary Grace Paraiso
Team Leader
Like a caterpillar transformed beautifully into a butterfly because of the people around me, helping me surmount all the adversities.
It can be tough working as a database builder. From the creation of a ship's structure from a blank database, sorting of the necessary information through instruction manuals and then the insertion of needed entries into the database itself, being snowed under with work boosts someone's tenacity.
But there is also a sense of urgency knowing the mission-critical nature and importance of our work providing operational support services for the Shipping and Maritime industries that move world trade.
Out here in the outsourcing capital of the world, there is also one's sense of pride working alongside other highly talented and highly motivated individuals that make up the FMSS team. Here, I have met different people with many different personalities, who have become friends and family to me, engaged as we all are in a highly challenging but fun and fulfilling environment that is also making all of us the best we can be as persons and professionals.
I myself am still a work in progress, who has endured what can be physically and emotionally taxing work but in the same process have only learned to be more compassionate to co-workers and just more appreciative of our Company. FMSS and PTC have got truly good leaders always there to help develop us to become problem-solvers, and always living up to our mantra: Together, we can move the world in more ways than one.
Jorecel Acha
Senior Buyer FMSS-NSC Team
An opportunity to grow, not only as an individual but as a professional and a leader.
I was working in Dubai earlier on at many different companies and interacting with people of various nationalities. It was a very exciting time for me, and highly fulfilling knowing the global nature of one's work. It was only when I realized that I was pregnant with my second son that I decided it was time to return and to stay, here in the Philippines to be with my family.
Not long after came the need to be productive and to work again. This was also the time that I found FMSS, a company with a great working environment that also provided one an opportunity to work for global concerns, to be part of moving the world.
Though I applied for the Senior Buyer position, the company saw enough in me to come in as a supervisor to junior buyers and beyond that challenged me to be leader of our TEAM.
The long and short of it is that I accepted the job offer because I know that FMSS is giving me the opportunity to grow, not only as an individual but as a professional manager and a leader.
At FMSS one feels genuine care for both clients and employees -- high-quality services that clients deserve, powered by highly driven and motivated people.
Our own leaders and managers are very accommodating, easy and honestly quite awesome to work with. Really, it feels great to be part of a company that knows how to value and appreciate people. And when you have a happy place to work and great co-workers, it makes you feel like you're at home. I am just happy and blessed to be part of FMSS TEAM!